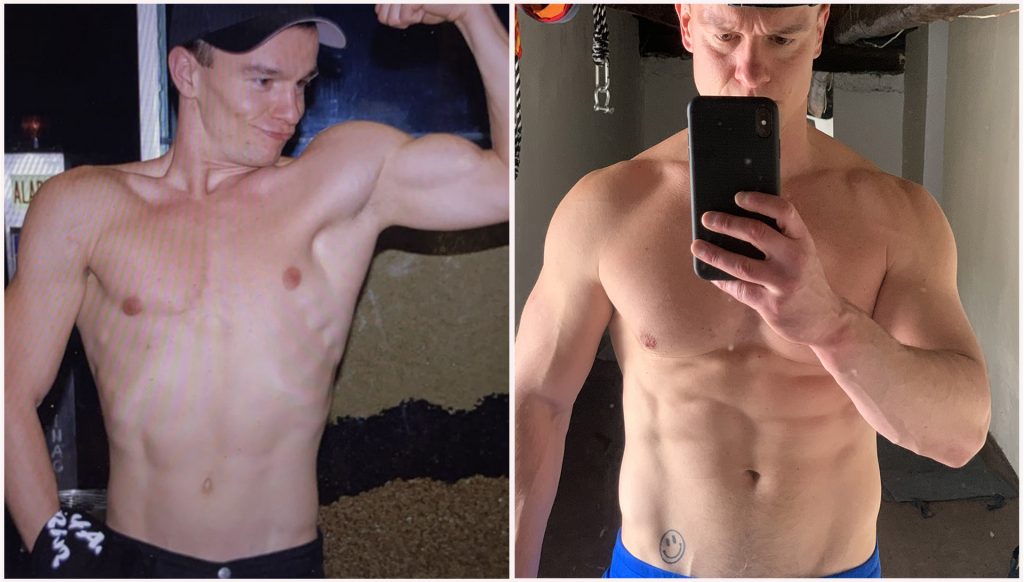 These last 6 months have been the best in my 17+ years of training.
I am bigger, stronger, leaner and more handsome than I've ever been. Not even close.
My secret? We'll get to that in a minute but first things first:
I haven't trained at a commercial gym in well over 6 years. I train outdoors or at home with minimalistic workouts.
Turns out, I'm very well prepared for the situation we find ourselves in right now.
No access to gyms, weights and equipment?
Tranquilo chico.
I will give you 5 tried and true strategies to build muscle, burn fat and get ridiculously strong from the comfort of your own home. (Don't get your hopes up, nothing about this will be comfortable.)
No gym, no weights, no equipment required. Let's go.
Homegrown Muscle
Before we get serious, let's rewind a couple of years…
I started working out in my late teens, training at commercial gyms for over a decade and doing your typical fitness/bodybuilding routine.
The results I got lifting weights, however, were puny compared to when I started getting into progressive bodyweight training.
And I gotta thank Paul "Coach" Wade and his groundbreaking book Convict Conditioning for that.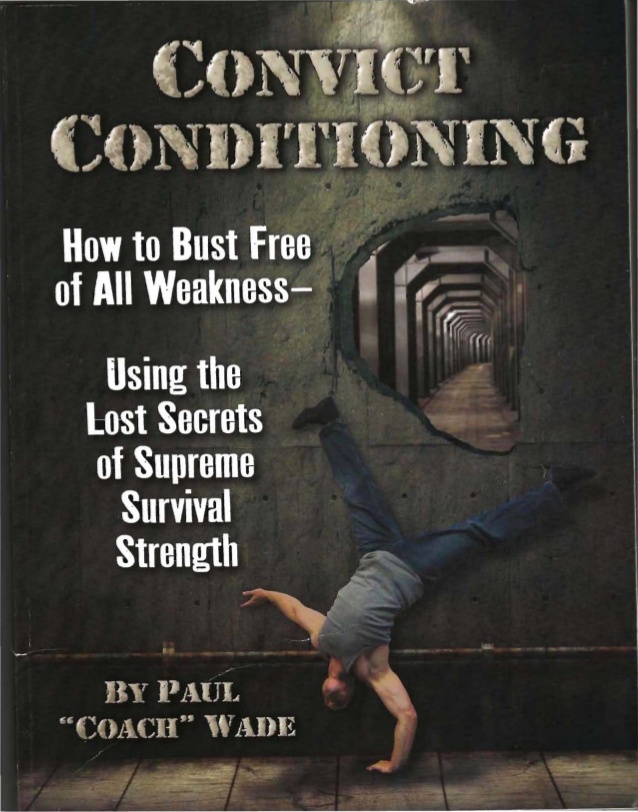 When I first got my hands on a copy, my understanding of bodyweight training (frankly, training in general) was very limited. To this day, it's the best book on the subject I've ever read (and probably the last one I'll ever read).
And I'll tell you why in a second.
Like a lot of you, I always performed some bodyweight exercises as part of my workouts. But merely as light warm-ups or high-rep finishers to supplement my weight training.
I didn't see the limitless potential of mastering my own bodyweight and the sheer endless capacity to increase the resistance and get seriously strong with classic movements such as push-ups, pull-ups and squats.
I was brainwashed by the fitness industry to believe that bodyweight wasn't enough to build muscle and strength. You absolutely need weights and machines to get anywhere… so I thought.
I mean, that's what the guys in the magazines are doing, right?
Wrong. Truth is, bodyweight training, in many ways, is superior to traditional weight-lifting.
All you need to build a body that looks as good as it performs, you have at your disposal, always.
But to get anywhere with this style of training you're going to have to redefine the idea of working out in your mind.
You ready for this? Let's begin.
1. Master the Basics
From the very moment you set out on your journey to physical supremacy, dedicate your time and effort to learning correct exercise form.
You must master proper exercise technique and movement patterns. This is fundamental.
Sloppy form, more than making you look like an idiot during your workouts, will put you at risk of injury while failing to adequately work the targeted muscles.
There's a reason why I put it on top of this list. You must master the basic bodyweight movements like push-ups, pull-ups, squats, lunges, rows and dips if you're serious about your results.
Where to start? Check out my 100+ YouTube videos for correct exercise form and punishing workout routines.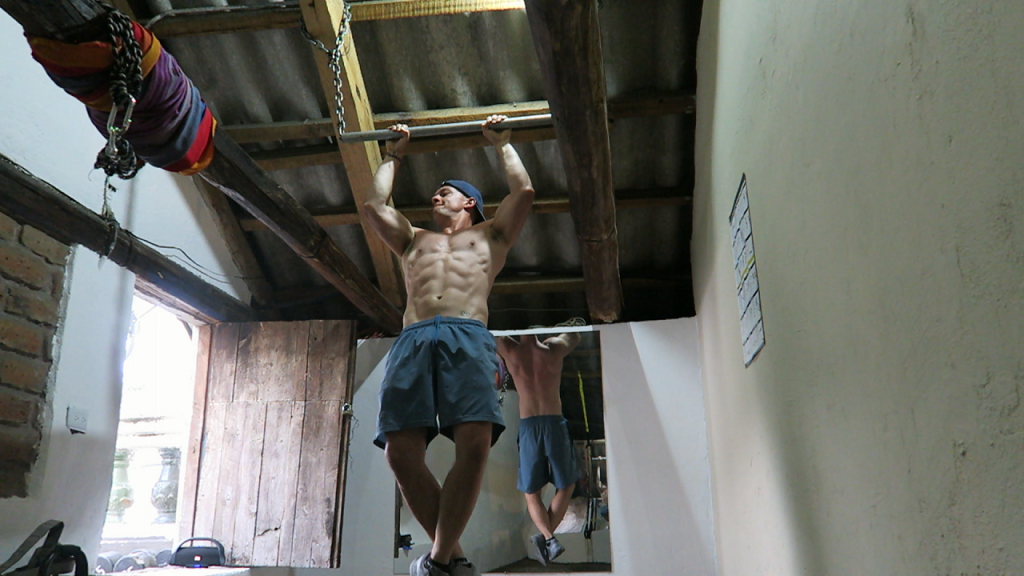 Regardless of your training history and starting position, this will not happen overnight. True mastery takes time.
Don't try to leapfrog ahead. Pay your dues by drilling the fundamental bodyweight movements day in day out.
Push-ups, pull-ups, squats, rows, dips, lunges, and leg raises. Done.
Record your sets on your phone, analyze the footage and adjust your form.
You want to feel the targeted muscles working without causing any joint pain throughout the full range of motion.
For your first year of training, I recommend high frequency and high volume to drill the fundamentals. That means you'll be training 5-7 days a week with high volume (lots of sets) on the basic movements.
Perfect form and immaculate execution don't just look like art in motion, they also work the muscles of the body the way they were designed to work.
The result is a strong, healthy and capable body.
What's that? You can't do a single push-up or pull-up yet?
Start with easier variations like bench push-ups (placing your hands on a bench) or push-ups on your knees and bang out multiple sets throughout the day.
Negative pull-ups, where you jump up into the top position of a pull-up (chin above the bar) and slowly descend back down, will have you doing full reps in no time.
Drill the basics frequently throughout your days until you master them and then…
2. Get Gorilla Strong
Keep looking, but you won't find 'em.
There are no fancy routines here. No circuits, no secret training techniques, no bullshit.
Just pure, authentic, honest-to-God work.
Your goal in training is not to burn calories or to jump around like a demented clown.
Your prime objective in training is to get strong.
Punto.
If you want to build muscle with bodyweight training you have to turn away from circuits and silly conditioning drills. That stuff will do nothing for you but get you out of breath.
Work primarily with straight sets, in the 10-20 rep range and focus on building strength over time. Tighten up your form, add a rep to your sets or do progressively difficult exercise variants.
Once you've become proficient at executing the basic movements, strive for progress, however small, in every single workout.
Now's the time to advance to harder exercises. Hit some pike push-ups and handstands to develop big, powerful shoulders.
Bang out a couple of sets of diamond push-ups for sleeve-busting arms.
Too easy still? How about a set of 20 flawless one-arm push-ups? I guess I have your attention now.
There's hardly a limit to how far you can go.
But I digress.
You don't want to hit your body with everything and the kitchen sink. You don't need 30+ exercises in your regimen to build muscle, burn fat and transform your body.
In fact, you want to hone in on a handful of basic exercises and focus on getting better every week.
Scroll back up. I already gave you the best and only exercises you need. Focus on those select exercises and always, always, ALWAYS monitor your progress.
From the very first session you do, write down the exercises, the number of sets and reps you did, add a few notes on how you felt during your workout, what you must work on and what to focus on next time you train.
Journaling your training (I use the "notes" app on my phone) will tell you exactly where you need to go. There is no guesswork involved in getting strong, building muscle and dropping fat. There are no hacks.
Master the basics, get gorilla strong and embrace the pain.
3. Train Like Your Life Depends on It
How do prison inmates and gymnasts get jacked and ripped working only with bodyweight?
They pay for their results in pain.
High frequency, high volume training. Endless sets, endless reps.
Now, does that mean you have to train for hours every day to make progress? No.
In fact, I got some of my best results using the opposite style of training, doing as little as 4 work sets per session.
Here's something I need you to understand right now: The style/method/way of training you employ is secondary.
Fuck your fancy routine. It's useless.
Yeah, there are better and worse training systems, but in the end, that's not what'll make or break your success.
You're out there looking for the "best" program, the optimal number of reps and sets, how many days to work out every week, how long your workouts should be, how much you should rest between sets, how to split up your muscle groups, which exercises are best for the upper chest…
What a damn waste of time.
I've built muscle training twice a week. I've built muscle training 7 days a week.
I've built muscle on high reps. I've built muscle on low rep training.
While you're still pondering what is "optimal", I'm in the gym getting it in.
You see, there is no such thing as optimal in the realm of physical training. What may be optimal one day, could very well be inadequate the next day. What may be optimal for Frankie, could very well be inadequate for you.
You wanna know how to get bigger, stronger, leaner? You wanna know the secret?
And I mean THE secret? Ok ok… here it is:
EFFORT.
It's not a magic number of sets or reps.
It's not a magic exercise or workout program.
It's not a magic diet or meal plan.
It's your ability and willingness (!) to pour everything you got into this. Into every set. Into every rep. Into everything you do in your workouts.
You gotta, occasionally, push yourself so hard you wished a heart attack would kindly save you from your next set.
That's true effort. The stuff champions are made of.
Forget everything you think you know about training and learn to PUSH YOURSELF beyond your (perceived) limits!
When you get down on the floor to do your push-ups, eliminate all distractions, silence that cowardly voice in your head telling you to take it easy and fight for every repetition like your life depended on it.
This is it. This is where results are earned. So go ahead and earn 'em!
Pick anywhere between 2-4 exercises per workout and perform 5-10 intense sets per exercise, pushing for progress every time you train.
Every set should be highly demanding with the last couple of work sets taken close to technical failure, meaning until you can no longer perform another rep with good form.
The duration of your workouts is meaningless. Don't stress about the clock. Don't rush your training. Focus only on the set at hand.
Here's how this would play out…
Sample Upper Body Training:
Push-ups: 10x 20
Pull-ups: 5x 10-20 (if you have a pull-up bar. If not, pick an alternative exercise)
Dips: 5x 10-20
4. Fuel The Machine
As you can undoubtedly tell by now, we're not playing games here. You'll be pushing your body hard, striving for better form, an extra rep or mastery of harder exercises.
Nothing about this will be easy.
And while your body is capable of a lot more than you give it credit for, you gotta play by the rules.
You cannot punish yourself with brutal workouts while failing to provide adequate nutrition and rest to replenish, recover and rebuild.
You will be demanding a lot from your body – good – but you will need to establish the proper growth environment. And it starts in the kitchen.
You gotta learn how to eat.
I use the term "learn" because it is a continuous process of understanding the workings of your body and how it responds to different foods and meal timing strategies.
Bottom line: If you do not provide your body with adequate nutrition, you'll look, perform and feel like trash.
What does "adequate" mean?
The right food, in the right amount, at the right time.
Sounds complicated, eh?
It's not. Not at all. But it does require some work on your part.
Performance nutrition 101:
Base your diet on nature-made ("real") foods.
Have set meal times every day and eliminate snacks from your diet.
Do not excessively restrict yourself.
Make better food choices, stop grazing like a ruminant animal all day, and provide your body with the right amount of fuel to operate at 100%.
[Step one: Reset your hunger signals. How? Check out The Cadillac of Diets.]
Avoid restrictive diets telling you to eliminate carbs, animal products, gluten, chocolate ice cream and anything that wasn't raised on the lush pastures of Narnia.
Stop trying to "eat clean" all the time and give your body what it wants.
You need carbs, proteins and fats. You need all macronutrients and all food groups to build a powerful physique.
Stay (far far) away from trendy fad diets and fuel your body with basic, minimally-processed, nature-made foods.
Foods your great grandparents considered food. Stuff like lean meats, oats, rice, potatoes, fruits and veggies (all kinds), eggs, high-quality milk and cheese.
Do that for the majority of your meals and you'd be surprised at how much you can get away with.
Yeah, that means you can eat to satisfaction, even slam an entire pizza here and there and your body will use the additional calories to further your physical development.
You'll end up stronger, leaner and more satisfied. And this is where the fun starts.
You see, your diet must never become a chore, a nutritional minefield or a complex science project. Never allow yourself to become a food extremist.
As with your training, simplicity is key.
Set your nutrition goals (i.e. fat-loss or muscle gain) and create a routine you can stick with for the rest of your days. Ask yourself, truthfully, can I do this every day for the rest of my life?
If not, find a better way.
[Still confused about how to eat to build dense muscle and shred bodyfat? Get on LEAN MACHINE]
5. Take The Long Road
Given you follow the above rules, how long will it take to build muscle? How long to get rid of the spare tire around your belly?
How long will it take to redesign your body and get jacked with bodyweight training?
It takes as long as it takes.
You know how kale-smoothie enthusiasts like to say "patience is a virtue".
Well, they are right.
Not about the disgusting green gunk they're chugging every morning but unyielding patience truly is key.
In fact, this might be the most important lesson you take away from all of this.
You can't fast track this process. You can't speed up physical transformation. There are no short-cuts here. No tricks. No hacks.
There is one way to results and one way only.
Stop wasting another hour of your life looking for the best way, the best exercises and the best supplements (don't make me laugh).
That's what fools do. That's what procrastinators do. That's what the people who never get anywhere do.
Master the basics, continuously push yourself to the next level, fuel your body with high-quality food & insert a monumental amount of patience.
Do this and the results will blow your socks off. My word on that.
V
Ready to step your game up?
This is Your Guide To Physical Supremacy:
The strategies and tactics in this program have transformed hundreds of people (check out these testimonials).
Now more than ever, you have to take charge of your health and performance. Get on the program today.