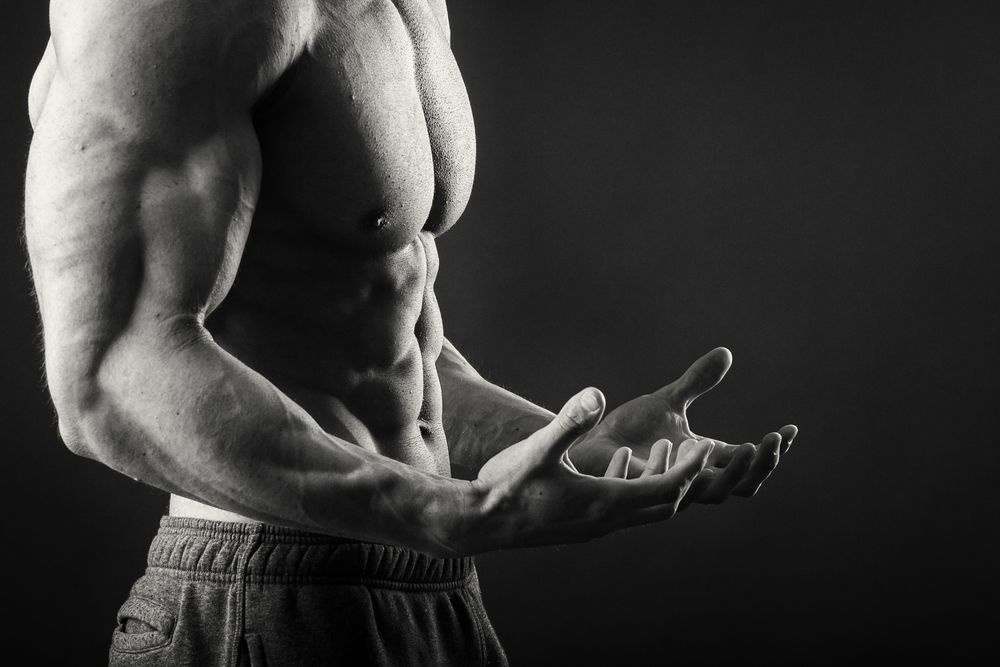 Do you want to lose fat, build muscle and unleash your ultimate self?
How about finally losing the fat around your midsection?
Having more ENERGY than you know what to do with?
And just feeling UNSTOPPABLE every day?
Do you want to build a lean, strong, and functional body without dieting, without supplements and without wasting your life at the gym?
(You know, like nature intended before the fitness industry came along to shove useless garbage down our throats.)
Cool. We'll get to that.
But first, allow me to introduce myself.
My name is Victor Gaspar, M.Sc and I am the founder and creator of Living Lean and Mean.
My job is to get ordinary people in extraordinary shape.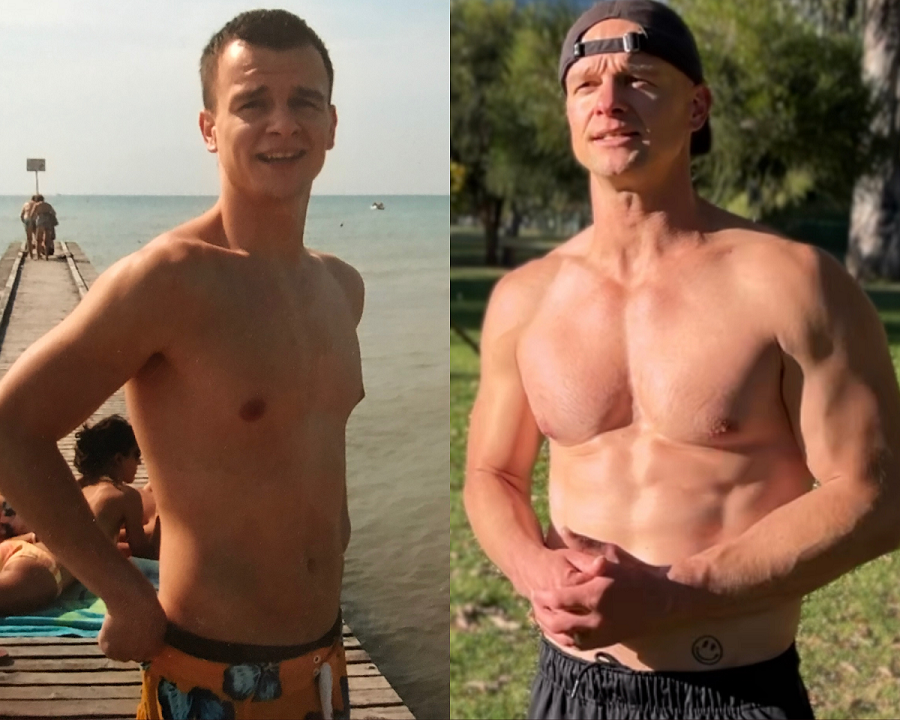 What's special about my approach? What are my credentials? Why should you trust me?
I'm not a genetic specimen.
In fact, growing up I looked like a bag of noodles and had the physical capacity to boot (the "before" pic says it all).
As I got into 'fitness' in my late teens, I had to face a painful reality.
I wasn't made for this.
Truth be told, my genetics for building muscle and getting ripped are LAUGHABLE.
While my peers in the gym would get results almost overnight, it took me years of trial and error to build myself up to a respectable degree.
From the very beginning of my journey, I had to go the extra mile in figuring out how to naturally maximize muscle gain, performance and fat loss.
But.. and here's the big "BUT"..
I never wanted to give up my life in order to look good.
I never wanted to live this mind-numbing "fitness lifestyle" promoted in magazines and online.
I didn't want to carry overcooked Tupperware chicken everywhere I go.
I didn't want to spend my days pumping up my muscles in the gym with people who don't understand the concept of deodorants.
And I didn't want to use drugs, powders and magic pills to get the job done.
I wanted to get STRONG, RIPPED, and POWERFUL on my own terms!
I wanted to LIVE FREE while getting outstanding results.
And after years of experimenting with (wasting time, really) every possible diet and training program on God's green earth, it finally clicked..
I uncovered the FOUR DRIVERS of physical transformation.
Mind you, it only took me 10+ years to figure it out. But then again, most people never get there. They will never know how to eat and train for a body they can be proud of.
Just take a look at the people in your local gym. They look the same every year.
The months pass, the seasons change but their bodies don't.
Sound familiar?
I created a state-of-the-art 4-Phase Transformation System to help regular people – people like you – get in world-beater shape within 6 months.
Listen here.
The fitness and health industry is as shady as they come.
The people behind the supplements, gyms and run-of-the-mill programs don't want you to make it. They don't want you to win.
They want your hard-earned money and will tell you anything to get it.
Call me naive but I believe in honesty, integrity, and service.
I believe in the truth.
And I believe you have a right to know the truth.
However, most fitness and health information out there is geared towards making a quick buck or deceiving people into committing to some cookie-cutter program.
But here's what they don't tell you:
You DO NOT have to lead a life of deprivation and misery to reach your goals.
You don't have to be on a low-fat, low-carb, misery diet to lose weight (in fact, this is a surefire way to sabotage your results).
You don't need to buy magic pills or fancy equipment to make progress (personally, I haven't used supplements in years).
And you don't have to give up your social life to work out for 2 hours every day (you wouldn't believe how little time you need to spend training when you have the right system).
Building a great body is easy once you're using a system that works on autopilot.
You heard me.
Building a great body is EASY!
So what's the problem here?
---
Why 9 out of 10 dieters will never make it to their goal
Did you know that well over 90% of all diet attempts fail?
Studies show that regardless of the specific diet you choose to follow your weight loss attempt is bound to fail.
If you're among the few dedicated individuals out there you'll lose weight initially, but you're almost certain to regain it all (and then some) after you go off your diet.
Why, you ask?
Because diets are short-term solutions for a long-term problem.
Worse even, they completely ignore the human element – YOU.
Despite what the next best diet doctor or TV expert is telling you, there are no one-size-fits-all solutions to getting in shape.
In order to be effective, your program must be:
Customized – A nutrition and training protocol designed to meet YOUR specific needs

Flexible – The ability to incorporate the plan seamlessly into YOUR everyday life

Rewarding – A program that will enrich your life, not make you miserable
I will teach you how to make this lifestyle work for you, without it consuming you.
6 protein-rich meals a day?
Training for hours every day?
Spending half your month's earnings on worthless supplements and magic pills?
Who has the time and the money for that?
More importantly.. who wants to live like that?
I certainly don't.
And I'm here to tell you that you can get in incredible, magazine-cover-shape by eating the foods you like and spending less time in the gym (truth is, you don't even need a gym!).
Sounds too good to be true?
Welcome to Team Lean and Mean.
---
Work With Me
I help people get STRONG, RIPPED, and POWERFUL without going on a diet, taking supplements, or wasting time in a gym with my 4-Phase M.E.A.N. program. 
Whether you're a businessman looking to lose the love handles and amplify cognitive performance.
A father wanting to regain the strength of his glory days and the energy to keep up with the kids.
Or an athlete wanting to maximize performance out on the field.
Every Living Lean and Mean program is built from the ground up, using science-based, field-tested tactics that have helped hundreds of people just like yourself reach their goals!
NO COOKIE-CUTTER PROGRAMS!
ONLINE COACHING includes:
Fully customized nutrition and training programs designed for superior results
Weekly update calls to ensure you reach your goals
LIVE workouts with me that will transform your body and mind (no gym required)
24/7 access to me via E-mail and WhatsApp. Anything you need? Talk to me
A once-in-a-lifetime transformative experience
I designed this program for serious individuals who want MAXIMUM RESULTS without giving up their lives in the process.
Inside M.E.A.N. you will learn how to eat, train and live in order to shred bodyfat, build powerful muscle (that actually performs), and become the individual you were called to be.
All the while teaching you how to make this lifestyle ENJOYABLE and highly REWARDING.
---
Talk to me
Set up a FREE call with me at [email protected] or message me on Instagram to see if you are a good fit for the program (NO strings attached).
---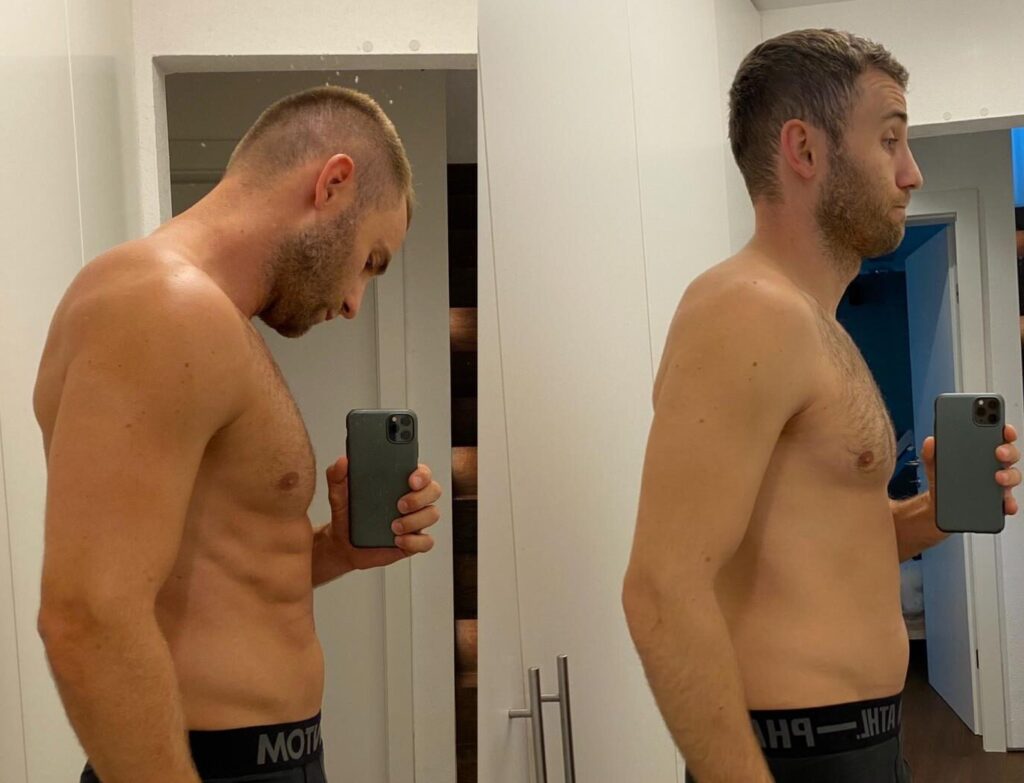 Guaranteed satisfaction!
"Online Coaching?? How will that help me get in shape? I need someone to kick my butt in the gym!"
This is something I hear a lot.
But the reality of the matter is I get way better results coaching people online VS in-person.
No comparison.
Why?
Because online coaching allows me to monitor and navigate EVERY element of your transformation. From the DIET to the WORKOUTS, the DAILY ROUTINE to the MINDSET required to succeed.
(Last one's key!)
We optimize EVERYTHING!
Conversely, if we're working in person (i.e. training in the gym together), I can only focus on and help you with your training.
And the truth is, your workouts are but a fraction of your transformation.
Mark my words..
If you follow my lead and DEDICATE YOURSELF FULLY the results will blow your mind!
If you're willing to invest in YOURSELF, I will be at your side until the very end.
And that is my promise to you.
Check out some of these testimonials!!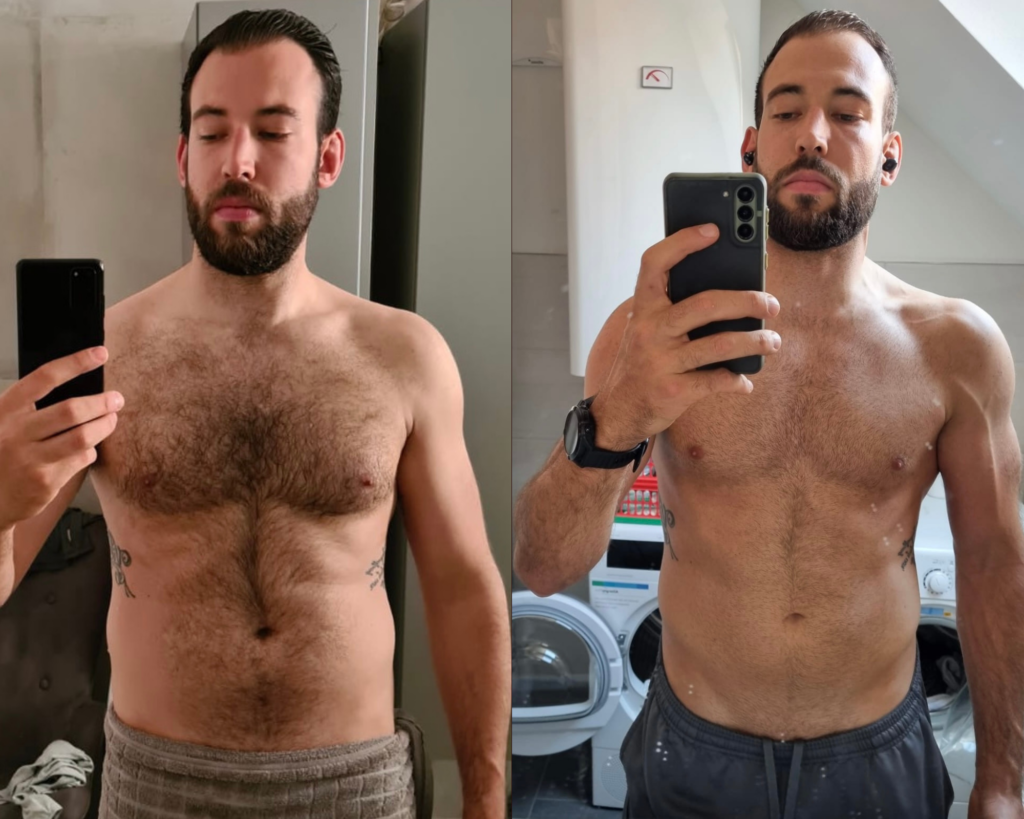 What are you still waiting for? Fill out the form below and get on the program today!
BE WARNED.
I expect more from you than your gym buddies or your significant other.
I don't tolerate laziness and smell excuses a mile away.
You see, over the years I've worked with my fair share of clients up and down the "genetic ladder".
I've seen the good, the bad and the exceptional.
And I know "bad genetics" and a supposed lack of time are merely stories people tell themselves to justify their inaction.
I've also had the good fortune of working with highly driven individuals.
People who were ALL IN from the very beginning.
People who didn't shy away from hard work and were willing to go the extra mile to see their dreams realized.
People who made me better in the process.
Ricardo dropped 11kg and got superhuman strong without giving up his favorite foods or ever setting foot inside a commercial gym.
"Sky's the limit."
For the dedicated, yes 100%. There's no limit to how far you can go.
For most, however, it's more like "couch's the limit".
DON'T BE LIKE "MOST"!!!
Expect more from yourself. DEMAND more from yourself and go after your goals with no apologies.
There are no shortcuts. There is no "easy" way.
The easy way, in reality, is always the long way.
Don't buy my services or programs expecting them to do the work for you!!
If you're sick of the fairy tales of your social media icons and tired of cringing every time you look in the mirror.
If you truly want to transform yourself without drugs, fancy equipment, and over-priced supplements,
If you want to achieve mind-blowing results without becoming an obsessive, compulsive meathead, fill out the form below and let's go!
If, on the other hand, you're looking for a shortcut or a miracle solution please don't waste my time.
Go back to scrolling on your phone and buying useless supplements that do nothing other than lighten your wallet.
Still here?
It's on then! Hit me up at [email protected] or on Instagram and let's get this party started.
Important!!
I always respond to your inquiries. Sometimes, however, my reply might end up in your spam folder. Check your spam!