Starve yourself to a better body. Starve yourself to a brighter future.
In the following, I will introduce a lifestyle "hack" that has made me a leaner, smarter, and more productive individual.
Make no mistake. This will be way too radical for most of you. That's fine.
Extraordinary results are reserved for extraordinary people.
Time to find out what you are made of.
A few months ago, I made it a point to start waking up before the crack of dawn every day.
Other than helping me get more work done (and speed up the release of my magnum opus – VICTORIOUS), I knew rising before everybody else would set up my day for success.
Waking up early just does something to you. Something magical. If you can get your butt out of bed, that is.
And I'll be the first to admit, I had a very hard time getting in the groove of this new routine. In fact, I failed more often than not.
When I actually did make it out of bed, I would frequently feel like a zombie for the first half of the day. Mood and productivity took a noticeable hit if I didn't get my 8h+ of sleep every night.
I felt like I was always playing catch-up…
Until I accidentally stumbled upon the magic bullet.
After a couple of days of serious undereating, I noticed I could get up in the morning no problem.
In fact, my body needed much less sleep to feel rested if I kept my food intake to a necessary minimum. I woke up every morning amped up and ready to go.
All I had to do was starve myself.
The Magic Bullet
To look good with your clothes off you gotta build muscle and drop bodyfat.
No way around it.
Training and building muscle is the easy part (if you know what you're doing). Dropping fat and getting chiseled, not so much.
It's hard, no question. But it's certainly not complicated.
You wanna lose fat and get in razor-sharp condition? Cut down on your food intake and, ideally, kick up your activity levels.
Simple, right? Wrong. Cutting calories every day is a recipe for disaster.
You deprive yourself of food long enough and you will crash and burn. Plus, you will end up looking like an overcooked noodle.
Your metabolism is not set up for extended stretches of energy restriction. However, it is very well equipped to handle short periods of famine.
In fact, it is built to endure acute bouts of "starvation".
So if your goal is to get ripped, I do not recommend a moderate calorie deficit for months on end (aka cutting 300-500 calories every day).
That will inevitably shatter your metabolic function, sex hormone status, and your joy de vivre. It's just a matter of time.
Instead of "going on a diet" and failing miserably like most people who attempt to lose weight, you will go a different route.
You will strip bodyfat at record speeds, all the while maintaining a high metabolism.
How?
Cut calories HARD.
Go low. Starve yourself.
But here's the key: Do it only for a brief, controlled period. Bring calories rock-bottom for a couple of days before bumping them back up again.
How low should you go? Much lower than you think.
One meal of protein and veggies a day. That's it.
The size of that meal depends on how much fat you have to lose. Bigger meals for lean individuals who want to cut the last 5-10 pounds, smaller meals for anyone with more weight to lose.
In any event, we're talking about one low-calorie, high-protein meal. Do that for a couple of back-to-back days before allowing yourself to eat more again.
Cycle days of undereating and days of eating to appetite as needed (ie. 3 low-calorie days followed by 1 high-calorie day).
And what you'll notice along the line, apart from rapid fat-loss, is a serious bump in energy during your days, more mental clarity and sharpness, and better, more restful sleep.
Undereating will bring out the best in you.
What's that? You wanna go even faster?
Now we're talking.
Enter the 48-Hour Fast
What's the fastest humanly possible way to lose fat?
Stop eating aka start fasting.
And while mainstream "experts" (lol) will warn you about the detrimental effects of not eating, the truth is fasting, done the way I prescribe it, will greatly benefit your metabolism, not sabotage it (as opposed to chronic dieting).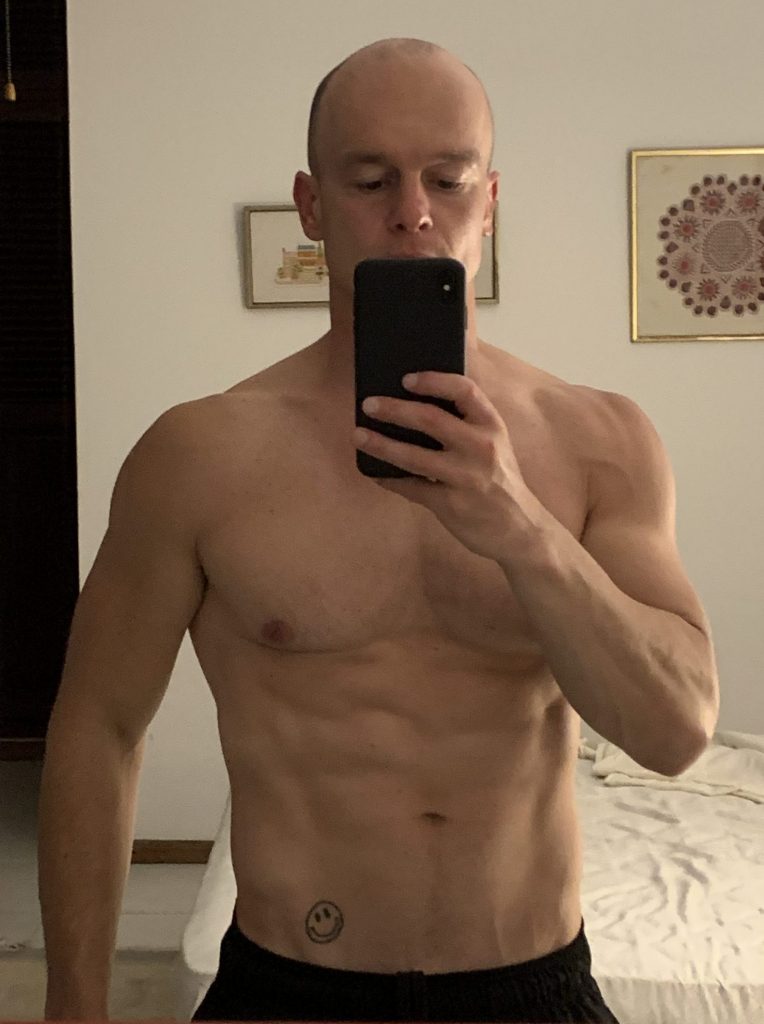 Here's your recipe for ripped abs and a healthier, harder body:
Don't eat for 48 hours straight and then eat properly once you resume feeding.
During your fast you can have black coffee, tea, and water (add 1/2 tsp of sea salt to every liter of water).
Nothing else. Zero calories.
No no no no. Eating "properly" doesn't mean shoving in burgers and ice cream till you pass out, silly.
Load up on protein, veggies, and fruit until you're happily satisfied. Meat, eggs, veggies, and fruit. If you're strapped for cash, go with sardines, rice, and a little fruit. Easy.
Eat till you're comfortably full and do so for a few days before entering your next 48-hour fast.
Cycle between days of fasting and days of eating (ad lib), until you're RIPPED. Everything else is a joke.
More frequent and longer fasts equals faster fat-loss. But don't get reckless. Play by the rules.
Use fasting as a tool to enhance fat-loss, physical and cognitive performance, but don't abuse it.
No more than TWO 48-hour fasts a week. And make sure to eat enough food once the fast is successfully completed (don't hold back).
Eat enough so you can train like an animal in the gym and sleep like a baby at night.
You think this is too restrictive? Too hard? A recipe for an eating disorder?
One thing I learned during the creation of VICTORIOUS is this: Moderation doesn't cut it.
Extreme results require extreme measures.
You'll know you're on the right path when people around you are saying you're taking it too far. In fact, if they don't think you're way too radical in your approach, I can guarantee you're not gonna get any noteworthy results.
If you want to keep doing what everybody else does you'll have to contend with the same shitty results.
Eat like everyone around you and you will look like everyone around you… A miserable pile of excuses.
Do the opposite of what everybody's doing. If it's too extreme for the mainstream, it's probably a good idea.
Not eating is too extreme for the mainstream. Not eating is the opposite of what everyone is doing.
Starve Yourself Lean, Smart, and Strong
Fasting is your trump card.
It is the ONLY diet strategy that will instill iron discipline all the while cutting your food addiction like a bad habit.
It's hard. It's unpleasant. It's anything but "fun".
Good. Stay the course.
And a few weeks down the road you'll notice you're less of a weak-willed, entitled little crybaby and more of a man.
That's right. Fasting will man you up and will set your sights on the things that really matter.
That goes for you too, ladies. Shame on you for believing the pervasive lies that being a fat lazy swine is OK as long as you're "happy".
You can't be fat and happy. Those two things are mutually exclusive.
You can't be fat and healthy, either. And you can't be "sexy" (mildly attractive, even) carrying around an extra 20+ pounds of lard no matter how hard you're trying to convince yourself otherwise.
Get real.
Being fat and out of shape is never acceptable. Never was. Never will be.
STARVE YOURSELF to a strong, capable, and beautiful body.
You heard me. Starve yourself until you look like a statue carved from solid granite. Starve yourself and make no apologies for it.
Let your results speak for themselves. People can believe what they will, but no one can argue with results.
Once you're content with what you see in the mirror, you can take it easy on the fasting.
But don't give up on this magic bullet. Insert the occasional fast when you notice yourself getting sloppy or when you need a serious shot of discipline in your life (you always do).
A weekly 48-hour fast will do more for your health and appearance than all the pills, potions and powders money can buy. That's a guarantee.
Get starving.
V