I will let you in on a little-known secret about building raw strength. Strong hands and a powerful grip transfer into real-world strength and performance unlike anything else.
That's right, forget about your bench numbers or how much you squat. If your grip strength is lacking you cannot ever hope to become truly strong. Train those hands and forearms and train 'em hard!
The Limiting Factor
To build muscle you must get stronger. If your hands are weak, however, you can't use heavy weights, and grip strength becomes the limiting factor in building a powerful physique.
What's that? You train with bodyweight only? Well, then you've experienced first hand how important grip strength is. Especially when you start playing around with advanced calisthenics movements like one arm chin-ups, flags and levers.
Lifting heavy weights is a sure-fire way to building up your grip strength. Embrace heavy unsupported (dump the wraps) resistance training. Performing deadlifts, bent-over rows, weighted pull-ups and hammer curls with progressively heavier weights will force your hands and forearms to become bigger and stronger.
Regardless, whether we're talking calisthenics or weight-training. Detach yourself from supportive equipment, machines and other soft and mushy bullshit. You're sabotaging your true potential by relying on equipment to do the work for you (mentally more so than physically). If your hands can't handle the heavy load without support, you have no business in using it. Scale down the weights or perform easier exercise variants and slowly work your way up.
No leapfrogging action. Put in the time and you'll get there.
Shotgun Muscles
I've talked about the importance of proper forearm and grip conditioning in my article on arm training. But mentioning them as a side note doesn't do the hands' role in strength development justice.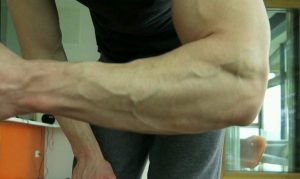 The author of Convict Conditioning and calisthenics mastermind, Paul Wade, calls the muscles of the forearm and hand "shotgun muscles". [I strongly recommend you check this guy's stuff out. His no-bs approach to training is a breath of fresh air in this industry]
As you know by now, I like to keep things simple. I'll only give you a handful of exercises. Work them intensely and progressively for grip strength straight from Hades. Wrist curls and other accessory bodybuilding exercises are not nearly as effective as the stuff I'm about to show you. Let's get to it.
"Grip of Hades" Training Protocol:
Hanging
Fingertip push-ups
Rope climbing
Thick bar work
Hang from a regular pull-up bar (i.e. bottom position of a pull-up). Squeeze the bar as hard as you can while keeping the muscles of your entire upper body tensed throughout. Don't simply hang from the bar like a wet towel. Lock yourself into position and hold on for dear life.
Perform this exercise for time. If you're able to stay up there for over 60 seconds, start using one arm and work your way up again. To further raise the difficulty, use a thicker bar or look for ways to increase bar thickness (i.e. wrapping towels around the bar).
Fingertip push-ups are a personal favorite of mine. To minimize risk of injury, make sure your hands are warmed up properly before moving into your work sets and consider starting with push-ups on your knees until you can do regular push-ups on your digits.
Fingertip push-ups too easy for ya?
Start with all 10 fingers. Over time try using 8 fingers, then 6… you know the drill. Train progressively until you can do one arm fingertip push-ups and try not to crush people's bones when shaking hands.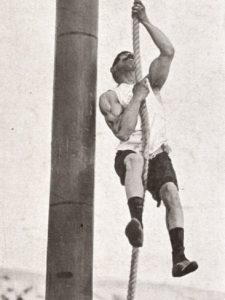 Rope climbing is another old-school strength exercise (and a phenomenal whole body conditioning workout in itself) that has suffered the fate of many traditional, but all too demanding muscle builders.
You rarely see individuals take on this incredibly intense exercise anymore. When done without leg support this former Olympic discipline is simply brutal (and brutally effective). Travel up and down a rope for sets until you can no longer maintain good form. The thicker the rope, the harder your arms will have to work.
If you have access to a thick bar, use it. I like to use Fat Grupz to increase the difficulty of a select few (mostly pulling and curling) exercises. They are by no means mandatory but provide a nice change of pace. If you're up for it, incorporate them into your routine. The pain you'll feel in your forearms after a heavy set of thick bar curls or pull-ups is something to be appreciated.
How often should you train your forearms and hands?
You inevitably target the "shotgun muscles" every time you workout, so there's no need to add high volume grip training to your routine. Pick 1-2 of the above exercises per session and drill them progressively 1-3x a week. If you're new to grip training, take it slow. Focus on getting stronger and providing sufficient inter-workout rest.
That is all for today.
Thank you for reading
Victor